Skyblock Forums
Official Skyblock Discord Karaoke Nights
It's been a couple of months since the last karaoke night, and we're glad to announce that they will be returning! Karaoke nights will be held every
Saturday at 1:30pm EST.
They usually last around an hour.
If you choose to come, it would be great if you could let Theo or me know as soon as possible so we are able to account for everyone. If you would like to sing a song, you need to create a conversation with Theo or me and message the song name. Make sure you add if you are going to sing by yourself or with others. I will keep adding on karaoke week dates and will keep this thread updated so you know when the next karaoke nights are.
The final song of each night will be a group song where everyone is allowed to participate. You should leave a reply on what song you would like to choose as the group song of the...
​

We are pleased to announce two new recipes:
Red Sand
- One rose red dye surrounded by 8 regular sand yields 8 red sand
Regular Sand
- One bonemeal surrounded by 8 red sand yields 8 regular sand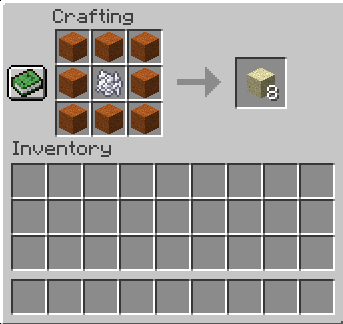 We hope players will find these sand conversion recipes handy, since you can convert whole stacks with just a few mouse clicks.

On a side note, we are aware that the recent custom recipes update seems to have broken the crafting book for 1.12+ clients and has also made it impossible to craft banners. We are looking into these bugs and hope to have fixes in place in the next few days. Thank you for your kind patience and understanding. <3

We are pleased to release new custom recipes for Skyblock:
Packed Ice (4)
- 8 plain ice surrounding one lapis lazuli
Podzol
- 1 grass block, 1 leaves block (any kind), and seeds in any arrangement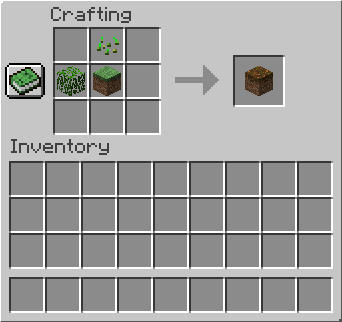 And a special recipe for 24 hours only:
Independence Pickaxe
- Three diamonds, two sticks, and red, white and blue wool, arranged as shown below, creates a special diamond pickaxe to remember this day by.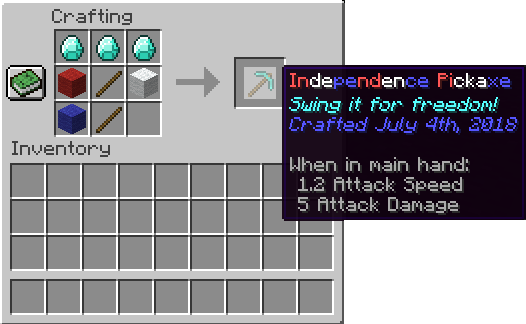 We plan to add new recipes from time to time as well, so stay tuned.


Thank you to all who have voted in the month of June! The top 10 voters will receive a $25 coupon code to spend up to $25 on our store shop.skyblock.net.
1) BostonNerdism - 91 votes
2) RocketWarrior137 - 91 votes
3) noah2308 - 90 votes
4) lilCupcakeFreak - 90 votes
5) JJ54KES - 90 votes
6) IBuTcHy - 90 votes
7) TropicalSleep - 90 votes
8) EnderDP - 90 votes
9) Maskaler - 90 votes
10) m0gliEz - 90 votes
The coupons expire August 4, 2018. They can only be used once, so make sure to spend all $25 in one go, as any left over will not save or roll over to future donations! You will receive your coupon from me through /mail on the skyblock server. You can use your coupon code on donations from Skyblock or Classic SB.
You can view the top 10 voters anytime in-game by using the /topvotes command on the skyblock server
Thank you to all who have voted for Skyblock the past few months and are supporting us.