Skyblock Forums
We're pleased to announce two new custom crafting recipes for the /skyblock server.
Notch Apple:
An apple surrounded by eight gold blocks yields an enchanted golden apple (also known as a notch apple), which can be used for crafting special banners.
Undye Glass:
You can now get eight clear glass blocks by putting eight matching stained glass blocks around one blaze powder. (Pretend the heat from the blaze powder melts away the color!)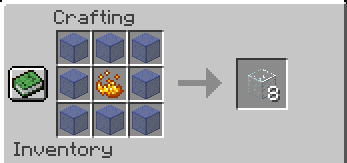 Special thanks to
catclaw4335
for suggesting the notch apple recipe, and to
lilCupcakeFreak
for suggesting a recipe to undye glass, and to everyone else whose feedback and support helped make these new features possible!
Happy Skyblocking!
The Nether has been reset with a new random seed!
Have fun exploring!
Thank you to all who have voted in the month of October! The top 10 voters will receive a $25 gift card to spend up to $25 on our store shop.skyblock.net.
BertBerry - 90 votes
Apext - 90 votes
bill55111 - 90 votes
cloudflying - 89 votes
Kacie - 89 votes
DadShop - 88 votes
ONLYUSEmeTroll - 88 votes
KuyaJosh - 88 votes
PureAspiration - 88 votes
moearnings - 88 votes
You will receive your gift card from me through /mail on the /skyblock server. Gift cards can be saved for multiple transactions and do not expire.
You can view the top 10 voters anytime in-game by using the /topvotes command on the skyblock server.
Thank you to all who have voted for Skyblock the past few months and are supporting us.
Hey guys, the 31st is right around the corner, and that means we will be hosting our annual Halloween Drop Party!
100 spooky pumpkin heads will be released and the drop party will be our best yet! This time, our plugin we created has been greatly improved (thanks to Lee of course) and everyone will have a much better and fair chance of receiving a head!
Date/Time:
October 28th (Sunday), at 5 PM EDT!
Just like before, you can be logged in anywhere on the server to participate!
See you guys there!
(very spooky)