Skyblock Forums
Hey guys, today marks the 7th year anniversary of the Skyblock map. I know we have a lot of anniversaries, but this one is really important too!
September 4th 2011, is when the actual downloadable map that started it all was first released. Crazy to think such a simple thing made so long ago was downloaded at least 5 million+ times (as of 3 years ago :O) and is extremely popular across the Minecraft community still even to this day. Even if its in different versions & forms. No one else really knows this, but 'Skyblock' was actually called 'Skycube' at first and I decided to change it to 'Skyblock' last minute while I was posting the original thread on the Minecraft Forums (
link
). The original Skyblock was a 3x3 grass cube and I thought it resembled some sort of rubix cube, which is where 'Skycube' came from and I named it that at first. Though it also looked like a big...
Hey guys, just letting you know that we have successfully updated to 1.13. Please keep in mind however, there is no new 1.13 features and we are only using a protocol hack to allow new clients. We will be waiting for a more stable build of Spigot/Bukkit before moving towards a full update.
We apologize for the few hours of downtime, there was some hiccups along the way and it took a lot longer than expected.
Our shop plugin as well is becoming a huge issue right now. Due to the way it saves and loads data, it consistently crashed the server, therefore we are please asking everyone to remove any shops not in use, especially for the players with 50+ shops.

Also, for anyone that hasn't created or managed a shop since May 31st may have had them removed.

We will be re-writing the plugin to save data differently so once this is fixed, it will never happen again.
Update
: This has been resolved.
We will also be releasing a new spawn sometime later today (Friday...
We are pleased to announce two new recipes:
Red Sand
- One rose red dye surrounded by 8 regular sand yields 8 red sand
Regular Sand
- One bonemeal surrounded by 8 red sand yields 8 regular sand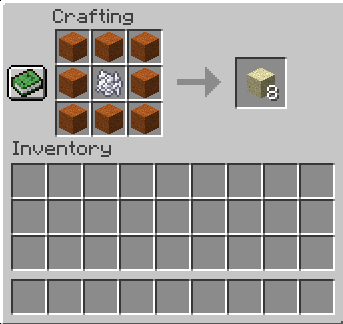 We hope players will find these sand conversion recipes handy, since you can convert whole stacks with just a few mouse clicks.
We are pleased to release new custom recipes for Skyblock:
Packed Ice (4)
- 8 plain ice surrounding one lapis lazuli
Podzol
- 1 grass block, 1 leaves block (any kind), and seeds in any arrangement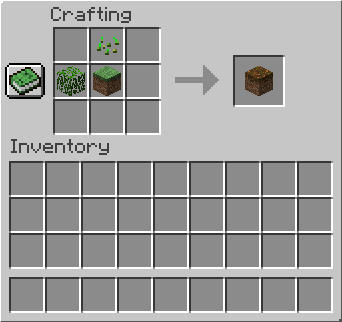 And a special recipe for 24 hours only:
Independence Pickaxe
- Three diamonds, two sticks, and red, white and blue wool, arranged as shown below, creates a special diamond pickaxe to remember this day by.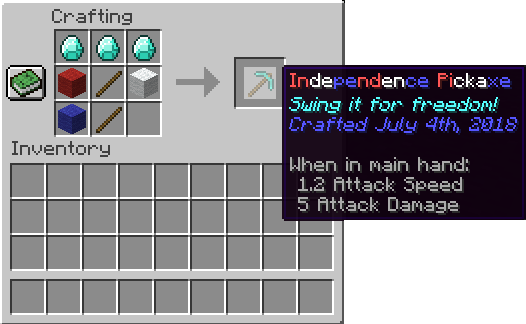 We plan to add new recipes from time to time as well, so stay tuned.