Skyblock Forums

Happy 4th of July Skyblock!
For those of you who are new around here, on Skyblock we celebrate Independence Day which is a U.S Public Holiday.
Previous celebrations have included:
- Independence Day Pickaxe's
(Custom Recipe)
- Skyblock Online Shop sale.
This year, we have taken this one step further.
Another chance to obtain some one time occasion rares!
So... what is up for grabs on July 4th, 2022?
1. Independence Day Sword
2. Independence Day Shovel
3. Independence Day Hoe
4. Independence Day Axe
5. Independence Day Pickaxe
Please see recipes below.
These are also available at /visit Meggann on both servers.

​
Along with custom recipes, we have also made use of
/gifts
1. Independence Day Head
2. Independence Day Firework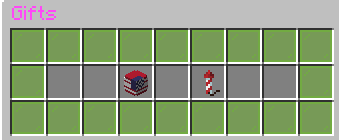 The gifts can only be claimed one time.
You can claim both on one server, or one on each.
Alts are...​
Thank you to all who have voted in the month of June! The top 10 voters will receive a $25 gift card to spend up to $25 on our store shop.skyblock.net.
MagikIsAMush - 87 votes (00:01:19 UTC Jun 29)
Daniil_Vi - 87 votes (04:00:31 UTC Jun 29)
proxenator - 87 votes (04:12:50 UTC Jun 29)
PwnXill - 87 votes (04:13:08 UTC Jun 29)
chanman_ca - 87 votes (04:20:40 UTC Jun 29)
BoringBen - 87 votes (04:49:34 UTC Jun 29)
Choco_range - 87 votes (04:49:54 UTC Jun 29)
Xstevey - 87 votes (05:59:47 UTC Jun 29)
BuffMarioMan - 87 votes (07:54:49 UTC Jun 29)
Julian9705 - 87 votes (08:44:40 UTC Jun 29)
its_Heisenberg - 87 votes (09:17:58 UTC Jun 29)
XxIceMagicxX - 87 votes (09:37:50 UTC Jun 29)
zuets - 87 votes (10:21:09 UTC Jun 29)
BeensMC - 87 votes (11:34:18 UTC Jun 29)
jbnorman - 87 votes (12:18:34 UTC Jun 29)
lzxcnm - 87 votes (13:19:31 UTC Jun 29)
Heruseus1377 - 87 votes (14:06:11 UTC Jun 29)
BertBerry - 87 votes (16:55:49 UTC Jun 29)...
Welcome back to the Monthly Island Competition! Each month our players battle it out to be crowned champion and have their island named the best on the server for that month.
We are pleased to announce that the winner of June's Island Competition was
BeensMC
with their island
/visit BeensMC
!
Beens
, you will be receiving your discord role and in game prizes very shortly! Congratulations, and thank you to everybody who entered last month's contest!
Now to this month's competition...
As May's contest was held on /economy, this month the contest is switching back to /skyblock! Remember that they will be alternating each month! As always, if you have any questions about the contest, feel free to /msg 52Phenomenon when you catch me in game or contact me on discord @ 52Phenomenon#9268.
Your task is simple: create an island (or enter an already completed island) on our Skyblock server and submit it. By entering, you have the chance of winning the...
Have you checked out our sister server,
SkyWars.com
yet?
When you need a break from building and farming and crave a little more excitement, you can now use your combat skills to win gift cards on Skyblock!
The top 10 point scorers on SkyWars every month will win a
$10 gift card
of their choice to use at SkyWars.com or Skyblock.net. Check out the
SkyWars.com
site for more details. Please be aware you will need a forum account at SkyWars.com in order to claim your prize.
Just enter
/skywars
in game to play (and
/skyblock
or
/economy
to come back)!
Economy Updates - July 1st, 2022
Updates to the Auction House plugin. New improvements and a potential exploit patched.