Skyblock Forums
Thank you to all who have voted in the month of March! The top 10 voters will receive $25 coupon code to spend up to $25 on our store shop.skyblock.net.
1 - DanielpsCraft - 96 votes
2 - Traumatophobia - 96 votes
3 - EnderDP - 96 votes
4 - katniss3242 - 96 votes
5 - Krissy_x - 95 votes
6 - hmesz - 94 votes
7 - avidavid - 94 votes
8 - ALT0W0 - 94 votes
9 - JJ54KES - 93 votes
10 - TiTan_Wolve - 93 votes
The coupons expire April 30, 2018. They can be only used once. You will receive your coupon from me through /mail on the skyblock server. You can use your coupon code on donations from Skyblock or Classic SB.
You can view the top 10 voters anytime in-game by using the /votetop command on the skyblock server
Thank you to all who have voted for Skyblock the past few months and are supporting us.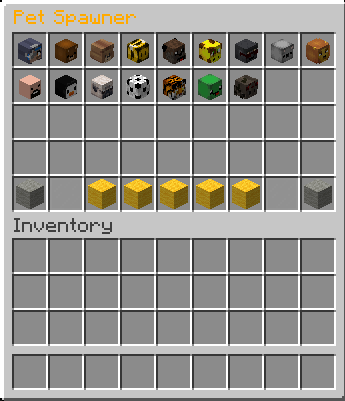 Dear Fellow Skyblockers,

The Pets plugin is now available on the new server. Players who purchased pets on the Classic server should have them available on the new server as well. To access your purchased pets, use the /pets command.

Kind Regards,

The Skyblock.net Development Team
Hello, fellow SkyBlockers!
Due to overwhelming requests we have tinkered, modified and reworked a solution to one of the most desired plugins ever: Personal Trade Shops. That's right, you can now create your own shops once more!
However the new method has a slightly different "feel". To help players we are drafting a quick tutorial.
To begin with all shops require players to place a sign on the block
in front of
a container! Emphasis:
In front of
!
The format for the sign changes, but the most common shop will be made to sell to others. To try and make this as painless as possible we are providing pictures:
Selling Items:
​
Important parts to note here:
First Line: Always says [trade] or [Trade], brackets required!
Second Line: How many of the item you want to sell.
Third Line: How much you want to charge for the item.
Fourth Line: "Sell" to sell items to...​
Dear Fellow Skyblockers,
You asked, and we've listened!
We've added a Change Log section, where we will be posting information on bug fixes, changes, and improvements we've implemented. This will help keep anyone interested informed, and will help us get valuable feedback from the community.
We'll still post important news and announcements here on the front page, as well as some main highlights of significant updates, but we'll do our best to keep the front page free of clutter while still keeping the community informed.
If you do want to stay on top of changes, please feel free to watch the individual Change Log forums you're interested in. They're currently organized into separate Forums, Skyblock and Classic sections.
The first change log entry has been posted for Skyblock, covering recent changes since the initial release of the Nether.
Main highlights:
PVP now works as long as both players have opted in, are not in god mode, and are in a PVP-enabled...