Skyblock Forums
The annual Easter Drop Party has been announced!
We will be dropping a mix of 100 Easter Bunny Heads and Eggs on both Skyblock Survival & Economy!
Date & Time:
April 20th (Saturday), 5PM EST/EDT!
Just like before we will be dropping on Survival first then move on to Economy and you can be logged in anywhere on the server to participate.
We will also be trying to add in a custom recipe for a craftable rare item that will only be available Easter Weekend!
Hop to see you guys there!
Update
:
Here is a picture of the heads that will be dropped later today!
For the first time ever, we will be releasing 4 different style heads! A Bunny Head, Easter Basket, Easter Egg, and Easter Hatchling!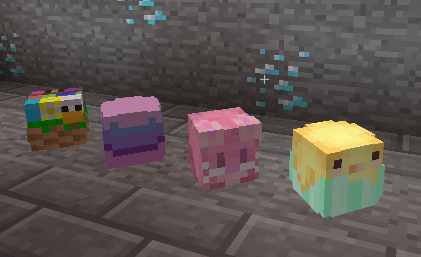 Also here is the new recipes of the cosmetic items you can receive this weekend only!
Per craft you will x5 and the recipe items can be in any shape or order.

Thank you to all who have voted in the month of March! The top 10 voters will receive a $25 gift card to spend up to $25 on our store shop.skyblock.net.
PhoenixFlights - 93 votes
Skreecher - 93 votes
Iced_Latte - 93 votes
Kbrick_ - 93 votes
UnknownLifeform - 93 votes
_Sketh_ - 93 votes
DogeIsAFK - 92 votes
Smestad_ - 92 votes
IamCaspian - 92 votes
gBeans42 - 92 votes
You will receive your gift card from me through /mail on the /skyblock server. Gift cards can be saved for multiple transactions and do not expire.
Thank you to all who have voted for Skyblock the past few months and are supporting us.
Hey guys, as we've mentioned recently we were wanting to push an exciting new update today, on Valentines Day. We encountered some issues last minute and we've had to hold off till now, but thanks to Matt and Lee spending a good amount of time today we got everything working correctly!
So, this new update which we find appropriate to release today, is the addition of the /marry command! And most importantly, a much more advanced /friends and /staff menu! We had to completely recode the plugin, as for most that already know, our current one has been broken or mostly un-functional for quite some time. It continually broke, up until the point that we couldn't even fix it, and it would even show staff offline for months.. So we are very excited to finally have this fixed.
With the /marry command, you can now marry (or divorce) another player. It's a small little add-on that's not over the top, it's basically like showing off your bestie 4 life or significant lover. While hovering...
Hey guys, today marks yet another anniversary! It's been 1 year since the release of the new Skyblock Survival server! Since then, we have pushed a bunch of new features and we've come a long way with already over 225k unique players joined!

For anyone that's not aware, the state of the server before the release wasn't the very best. The release of the new Skyblock Survival was necessary to have a fresh start and aimed to start our move to a much more advanced server with the addition of a bunch of new features such as larger islands, levels, and island settings. I'm extremely happy to see how much things have worked out and how much better our overall server quality and performance is compared to a year ago, along with the great addition of Skyblock Economy (.org) back online! We're even hitting upwards of 280 player peaks peaks on the weekend! Time flew by pretty quick but as always, we still have new and exciting things to release, one of them being a cool little feature and a...