Recent News
Skyblock Forums



───── Easter Drop Party '23 ─────
Congratulations to those who made the Final Shortlist.​
Process:
Following on from the Original Voting, all of the votes were totalled up per head.
This data was then collated into a combined list for our final shortlisting stage. There was a fair bit of overlap between the two forms, so we have accounted for this by adding the next highest to the list.
Staff
and
players now have the ability to vote on
the final standing
heads at the same time.
This will be via 1 combined form, please vote carefully.
The form includes the head names for all 12 shortlisted heads.
We now need your help again. This is your chance to vote for your
FAVOURITE 3
on this list.
This shortlist will determine our 5 Drop Party heads + Hunt Head.
(Image available to viewer...
​


───── Happy St. Patrick's Day Skyblock! ────
​
Log into our servers over the the next 24 hours to claim 2 rare items!
Craft your very own Lucky Pocket Watch and redeem a Pot of Gold.
━━━━━━━━━━━━━━ ☟ ━━━━━━━━━━━━━━
Here's how to obtain:
Lucky Pocket Watch:

Pot of Gold:

(Please note, this can only be claimed on one server, no alts are allowed).
━━━━━━━━━━━━━━━━━━━━━━━━━━━━━━━━━━━━━━━━━
Information:
- /gifts can only be obtained once on one server.
- Alts are not permitted. Any alt usage will result in confiscation.

All of this is available ONLY for the next 24 hours!
Extras:
There is also a 50% off sale on all ranks and upgrades as well!

━━━━━━━━━━━━━━━━━━━━━━━━━━━━━━━━━━━━━━━━━
Thank you all for celebrating St. Patrick's Day with us here on Skyblock!
We hope you all enjoy the unique items available.
Thanks! From the...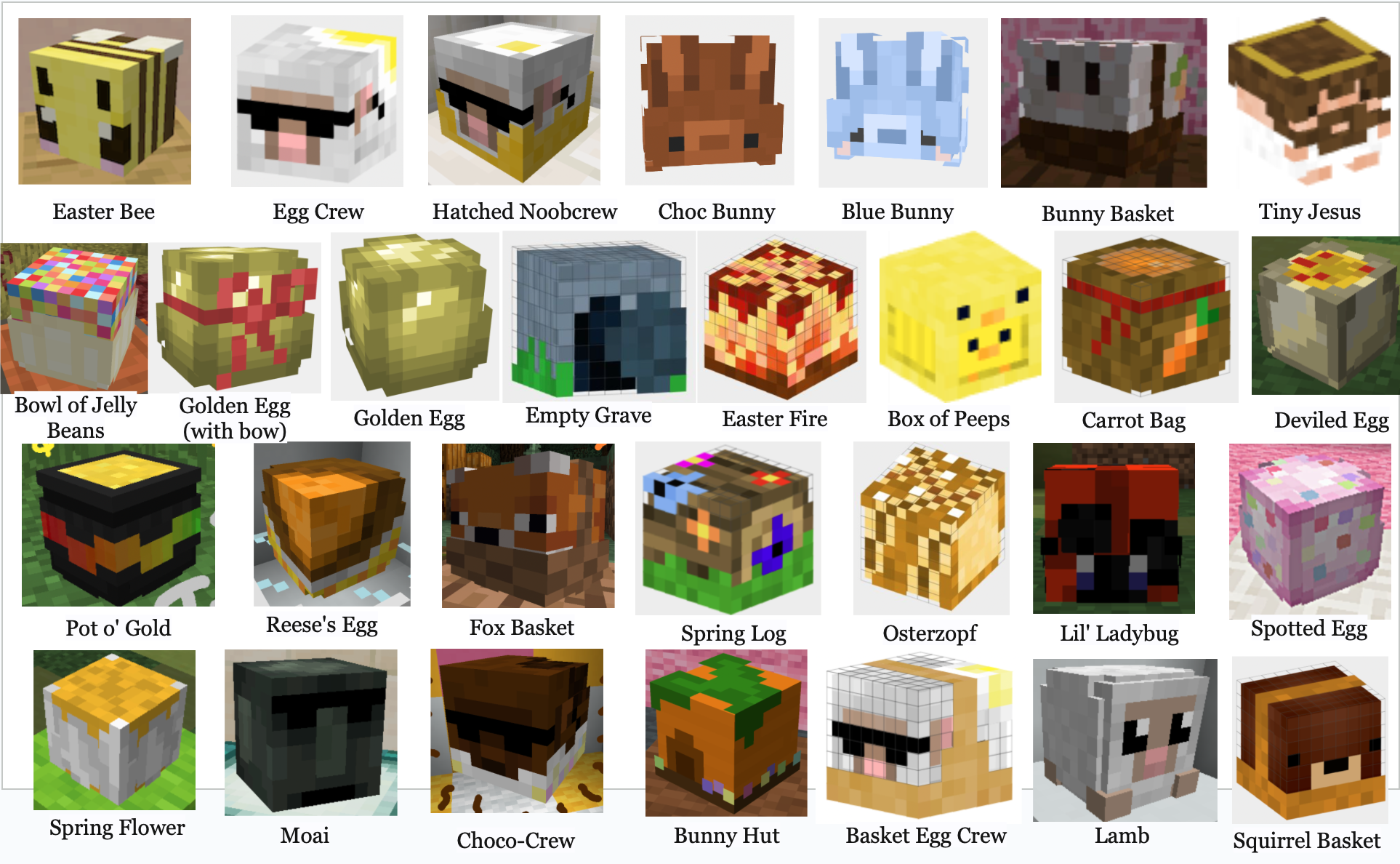 ───── Easter Drop Party '23 ─────
Ahead of our Easter Drop Party, we welcome the Community voting shortlist process.
​
━━━━━━━━━━━☟━━━━━━━━━━━
Process:
1. All of the heads have be reviewed to ensure they are appropriate and that there is no copies of existing heads. As staff, we have removed (zero) entries this year.
➣Staff
and
players now have the ability to vote on
all
heads at the same time.
➣Two separate forms just so that it's easy to keep track of. (One for Staff and One for Players).
➣The form includes the head names for all 70 entries.
2. You can vote on your
FAVOURITE 10
from this list.
3. The
Top 10
most voted heads from this form will then contribute to
50%
of the shortlist.
➣We are aware that there may be some overlap between the forms which is fine, we will account for this accordingly....
We are thrilled to announce the launch of our new Skyblock website!
Our updated design boasts a more modern and user-friendly look that makes navigation easier than ever before. We've added new features and improvements, including a new home page, downloads page, useful links, mods, and even how-to guides. Mobile viewing is drastically improved and we've also made sure that the new design seamlessly integrates with our original forums to maintain it's nostalgic appearance.
There are a few things we still have planned to do including more content on the "Mods" page such as an iOS app (will take some time) and more Minecraft Marketplace content, as well as additional guides and information (perhaps a wiki!) for our multiplayer servers and singleplayer worlds!
We hope you enjoy the new site and would love to hear your feedback! If you prefer the original design, you can still access it by selecting it in the 'Style Chooser' located at the bottom left of the forums....
Global Updates - March 4th, 2023