Recent News
Skyblock Forums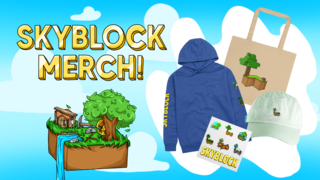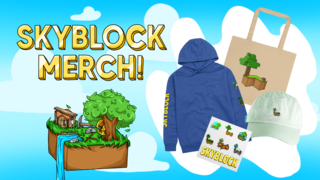 Skyblock Merch is here!


We're thrilled to unveil the official release of our exclusive Skyblock Merch! You can now purchase Skyblock hats, stickers, shirts, jackets, mugs, buttons, beanies, patches, and more!
Check it out here!
https://merch.skyblock.net
This is something I have been looking forward to for years now but was unsure how to make it happen, i've had to navigate through difficult product suppliers at first and luckily after time found a platform with exceptional quality. I've also came up with brand new art and designs that help capture the simplicity of Skyblock for these unique products.
Our ultimate objective is to build upon this and to craft even more cool creations. This is just the start and we can do limited edition drops and other ideas in the future. If you have any ideas for new products we should do just let us know!
Note
: I focused on getting this out as soon as possible, but there are only a...
Global Updates - December 6th, 2023
All servers have been updated to allow Minecraft Java 1.20.3 clients.

We are currently in the process of moving a lot of our server infrastructure around. So we apologize for some additional server reboots along with downtime with Bedrock.

We have been aware of the constant latency issues and we will be moving Survival and Economy on potentially faster hardware soon! This will occur likely tomorrow or the day after, we can't give an exact time just yet but we will start with Economy first then Survival second. Each gamemode may experience around 4-6 hours of downtime.
Global Updates - December 2nd, 2023
New vote link has been added! https://vote4.skyblock.net

The new vote site we are using is the Official Minecraft Server List that was recently released.

We have traditionally stuck with 3 vote links to limit rewards in the server economy that are given by voting, however we will ultimately move up to a maximum of 5 links soon to increase our exposure on the numerous voting sites.

Changes to milestone rewards have been adjusted. Vote Party threshold has been increased from 80 to 100. The order of vote links have also slightly changed.

This will slightly affect Top Voters. Of course, adding more links may make it more difficult or time consuming for players to get in the top list. This is needed however considering we have had months with up to 70 winners (including the past month). For players that might see this announcement too...
Thank you to all who have voted in the month of November! The top 10 voters will receive a $25 gift card to spend up to $25 on our store shop.skyblock.net.
Sinphox - 87 votes (00:00:06 UTC Nov 29)
Neutral_Hunter - 87 votes (00:01:33 UTC Nov 29)
BeensProShop - 87 votes (00:02:42 UTC Nov 29)
mindcraftermunny - 87 votes (00:04:16 UTC Nov 29)
CabnBoyWasCool - 87 votes (00:10:06 UTC Nov 29)
Legitseville - 87 votes (00:13:39 UTC Nov 29)
chanman_ca - 87 votes (00:17:10 UTC Nov 29)
SkyJohn - 87 votes (00:25:46 UTC Nov 29)
SkyGuyGamerz - 87 votes (01:02:13 UTC Nov 29)
MrSquanchy28 - 87 votes (02:48:45 UTC Nov 29)
sh20000sh - 87 votes (03:33:06 UTC Nov 29)
Braindeadly - 87 votes (04:03:01 UTC Nov 29)
junglejamble - 87 votes (04:55:20 UTC Nov 29)
WolfySmite - 87 votes (05:05:18 UTC Nov 29)
D4ncem4n - 87 votes (05:19:42 UTC Nov 29)
Charlly15 - 87 votes (05:21:39 UTC Nov 29)
ahnseongmin - 87 votes (05:42:25 UTC Nov 29)...


───── Christmas DP 2023 ─────
It is that time of year again! Let's go!​
The most wonderful time of the year is just around the corner and we are carrying on the Skyblock tradition for you all.

Yet again, we are giving you all the chance to have a custom head featured in this year's Christmas Drop Party! This thread will give the community a chance to feel more involved in our DPs and events.
This competition is open to both staff and players and the winners will be decided anonymously and inclusive of everyone!

Entries must be submitted around mid December (DATE TBC) so we have enough to prepare the Head Value IDs and voting processes. (I will remind you with advanced notice of the deadline.)
The idea and rules are simple but if you are interested keep listening.​
━━━━━━━━━━━☟━━━━━━━━━━━
Rules:
1. You can have as many entries as you like
2. This is open to staff and players
3. The heads can be anything but MUST be...