Skyblock Forums
Hey guys, today - May 23rd, marks the 5th year anniversary of Skyblock.net!
May 23rd marks the day Classic SB as you know it was first released! After many struggles from the earliest server made (can't remember exact date
) in June or July of 2012, the server was eventually reset and Classic SB was born. I promised the community then, that I would never reset the server again, and since then i've stayed true to that and we've been through a lot of changes from the old 9x9 gray wooled spawn. With over 2.7 million players joined and the world capped out at 500k islands. I would just like to thank everyone that has been apart and continues to be apart of our community, whether you joined a few days ago or a few years ago.
5 years is a very long time, and it has been a huge chunk of my life. Never have I thought that I would be making a thread like this for anything. Skyblock is something I first created right after middle school and along the way i've built great friendships...
SkyWars is now officially back! The original SkyWars.com server with a new spawn is now back together with Skyblock! Fight upon floating islands and be the last player standing!

To connect simply type /skywars or bring up the server menu by typing /servers.

We will be adding new and exciting updates over the next few months and we are still fixing some things here and there, so please let us know of any bugs you may experience.

Hope you guys enjoy!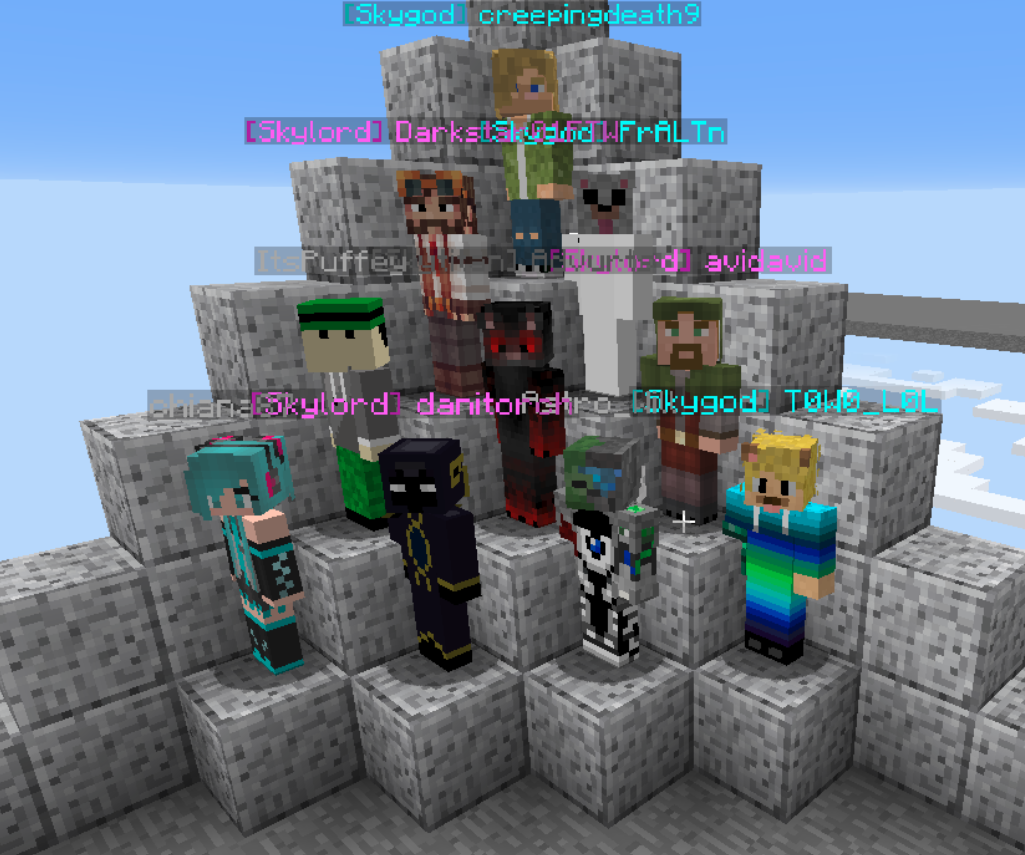 Thank you to all who have voted in the month of April! The top 10 voters will receive $25 coupon code to spend up to $25 on our store shop.skyblock.net.
1 - creepingdeath9 - 91 votes
2 - Darkstar01FTW - 90 votes
3 - FrALTn - 89 votes
4 - ItsPuffey - 89 votes
5 - Advurts - 89 votes
6 - avidavid - 88 votes
7 - chiana87 - 88 votes
8 - danitorch - 88 votes
9 - Astro_Will - 88 votes
10 - T0W0_L0L - 87 votes
The coupons expire May 31, 2018. They can only be used once, so make sure to spend all $25 in one go, as any left over will not save or roll over to future donations! You will receive your coupon from me through /mail on the skyblock server. You can use your coupon code on donations from Skyblock or Classic SB.
You can view the top 10 voters anytime in-game by using the /votetop command on the skyblock server
Thank you to all who have voted for Skyblock the past few months and are supporting us.
Hello, fellow Skyblockers,
It has come to the attention of the team, that there are players who wish to have certain aspects of their accounts removed for privacy reasons… be it previous past names, or posts left hanging about.
There is a possible bypass for this, where a new account is created and merged with your old one, removing select information, such as
listed previous names
, or
posts you wish you no-longer had
.
The reasoning behind this is due to the fact that some people first sign up to the forums using real-names or names they'd rather forget, whether initially deliberate or affected by autofill, they later request to change their name and no-longer wish to be associated with it for whatever reason.
If you start a fresh account, what will be carried over?
- Post count will remain the same as your previous account. (Assuming that's not what you wanted removed).
Merged posts won't be viewable in your post history.
-...